Women's Wednesday Road Ride
December 16, 2022 @ 5:00 pm

-

7:00 pm

|

Recurring Event

(See all)

An event every week that begins at 5:00 pm on Wednesday, repeating until December 16, 2022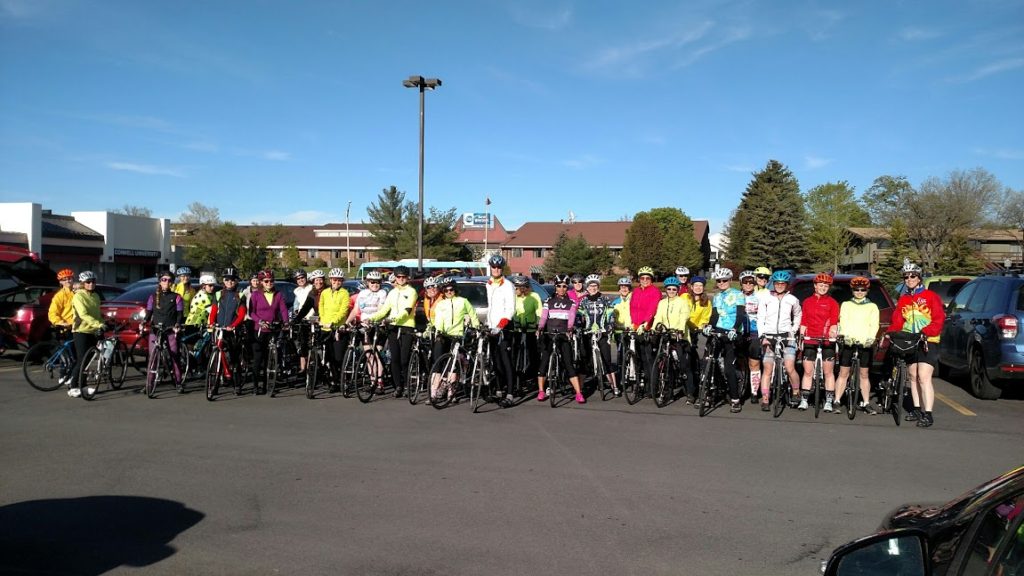 The Women's Road Ride (WRR) is a club-sanctioned road ride for women that happens each Wednesday night, spring, summer and fall. We like to call ourselves the "Gorges Gals"! They are a great place for women to cycle together, get a good workout, and build lasting friendships on the bike. These rides convene in the East Hill Plaza parking lot behind the Burger King at 6pm and break out into 3 groups, A, B or C. The A ride is the fastest (typically averaging 15+ mph) and has the most elevation. The B ride is moderately paced (13-15 mph avg) with a moderate amount of climbing, and the C ride is slower paced (10-12mph avg), with shorter distances with less climbing.
WRR rotates through the same four or so routes each week from mid May until mid September. WRR participants learn the routes and ride them faster and stronger each week, regardless of whether they are in the A, B, or C group.
Google Group: Women's Road Ride
Frequently Asked Questions
Q: How do I participate?
A: Show up on Wednesday night a little before the start time.
Q. Do I need to be an FLCC member to participate?
A: Non-members are expected to join FLCC after their first two rides.
Q: Do I need special equipment to join WRR?
A: You need a road bike with gearing that can handle the hilly roads, blinking lights that fix to you or your bike for safety at dusk, water bottles with water, a bicycle helmet, and tools/parts to fix a flat tire.
Most women that participate in the rides use road bikes, however a fitness/hybrid/gravel bike could be appropriate for the C group rides. It really just depends on the pace you can maintain.
Most participants also ride with clipless pedals, however, that is not required and often riders in the C group use flat pedals.
Q: I'm new here, how do I know which group I should join?
A: You should be able to complete the route your group is doing in 2 hours or less. If you are unsure about your ability, it is always best to first join an easier group and then, the following week, join a faster group if you want a more challenging ride. Depending on who shows up, some of the groups break up into two subgroups if there are riders with really mixed abilities, so its highly likely you will have someone to ride with.
Q: I'm a man who rides slow and/or who is looking to improve my group road riding skills. Can I join WRR?
A: No, sorry. These rides are for women only. There are other club rides where men are welcome!
Q: Can tandem or recumbent riders participate?
A: Typically we do not have riders on recumbent or tandem bikes. However, if women on recumbent or tandem bikes have experience riding in a group and know that they could maintain the group pace, we can try it out, likely in the C group. Our top priority is safety, so we just want to keep everyone in the group safe on the roads!
Q: If it is raining, will we still ride?
A: If it is sprinkling, we will probably ride. If it's raining hard or thundering, we will cancel. Emails will be sent to the WRR email list by 5pm day of ride if it's going to be cancelled. Sign up to the mailing list for up-to-date info on the rides.
Q: I'm not a member of FLCC, can I still ride with WRR?
A: We welcome all riders for the first two weeks of riding. If you wish to continue, then we ask that you pay your dues to FLCC, which is very affordable. Sign up here!
Q: Are the rides no drop?
A: Yes! The rides are no drop, meaning if you get a flat or have some other mechanical issue, the group will wait. And the groups all wait and regroup at the top of the climbs and before crossing major intersections (e.g., Route 13, Route 79). But no drop does not mean if you have jumped into a group that is at a higher fitness level than you, the cyclists will wait for you at each and every corner. It is up to you to know which group to ride with by studying the route and deciding ahead of time if you can complete that route in 2 hours or less.
Q. What are typical WRR routes?
A group: https://ridewithgps.com/routes/13756715
B group: https://ridewithgps.com/routes/13756959
C group: https://ridewithgps.com/routes/13757026
Spread the word to women who are looking to ride. WRR organizers welcome riders of all skill levels and experience, and will find a group for you.